Michael Rosenblatt, MD '73
Senior Partner, Flagship Pioneering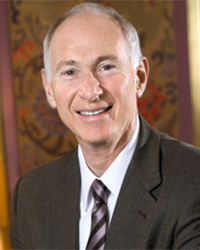 These updates from the Harvard Medical Alumni Association President previously appeared in Harvard Medicine magazine.  
Our Strength and Purpose During Trying Times

These are extraordinary times: a pandemic, a tide rising against racial injustice, a global economic crisis, and deep divisions in U.S. society. Many of our fellow alumni are helping to address the huge challenges before us. We are indeed grateful to those serving on the frontlines to combat COVID-19, develop vaccines and treatments, and improve access to health care. The Alumni Council is acting, too. It hopes to contribute by helping to create equal opportunity for students.

The Council held its first virtual meeting this spring. It was frustrating to not be able to say "good-bye" in person to Robert Barbieri, MD '77 (eighth pentad), Jacqueline Boehme, MD '16 (first pentad), Toren Finkel, MD '86, PhD '86 (seventh pentad), Lakshmi Halasyamani, MD '93 (councilor-at-large), and Jennifer Mack, MD '98, MPH '05 (fourth pentad)—all of whom ended three-year terms. I also thank fourth-year class co-presidents Troy Ameen and Vartan Pahalyants, who joined us this year as inaugural student representatives.

And I want to welcome our newly elected members: Kenneth Bridges, MD '76 (president-elect), Douglas Chin, MD '94 (councilor-at-large), David E. Cohen, MD '86 (seventh pentad), Margaret A. Liu, MD '81 (eighth pentad), Numa Pompilio Perez Jr., MD '15 (first pentad), and Coleen S. Sabatini, MD '04 (fourth pentad).

During our spring meeting, Dean George Q. Daley, AB '82, MD '91, PhD, talked about the financial impact of COVID-19, including lost tuition revenue, increased financial need among MD students whose parents may become unemployed, and the diminished endowment. Following this news, the Council reexamined the wisdom of pursuing the goal of a debt-free MD education for students with financial need while also remaining sensitive to the changed financial circumstances for many alumni. After discussion, we reaffirmed the goal unanimously, and we confirmed the appetite among HMS alumni to help.

We have chosen to focus on financial aid for several reasons: 70 to 80 percent of students require some form of financial aid to attend medical school, young alumni accumulate interest on their debt during their training, and debt likely steers students away from primary care fields and public service. If there is one thing this pandemic has taught us, it is that society wants and needs doctors on the frontlines.

We also realize that although HMS has one of the most generous financial aid programs in the country, several top-tier medical schools are lowering student debt dramatically. We must remain competitive if we are to continue to attract the best students.

The Council will continue to work closely with Dean Daley and his team and with University leaders. Our aspirations may take time to be realized.

My thanks to all our alumni who are doing so much to make our world better, healthier, and more just. Please contact me at hmsalum@hms.harvard.edu with questions or comments.

A Goal of a Debt-free Medical Education

I am pleased to report that the Alumni Council reached an important milestone in its initiative devoted to student financial aid: Council members unanimously approved the goal of pursuing debt-free medical education for students with financial need. For now, the goal is aspirational. But the historic unanimous vote gives the Council a green light to work with alumni colleagues and HMS leadership in developing a plan to achieve this worthy goal.

The decision was informed by a philosophical platform crafted by Dean for Medical Education Edward M. Hundert, MD '84. An excerpt sums up the argument:

We strive to encourage idealistic students from all socio-economic backgrounds to become compassionate physicians committed to the highest standards of care, the greatest heights of innovation, and the enormous responsibilities of leadership. Therefore, we are focused on ensuring that admitted students can come to HMS and do not graduate with devastating debt that might push them to select a career path based on their financial needs rather than their true passions. To reduce student debt—with the hope of eliminating it—we are committed to upholding our longstanding twin principles of need-blind admissions and need-based aid, and we aspire to debt-free medical education at HMS.

The vote came after careful deliberation that also included consideration of other financial aid mechanisms and reports of conversations with HMS and University leadership, including those with George Q. Daley, AB '82, MD '91, PhD, and Harvard President Lawrence Bacow, JD '76, MPP '76, PhD '78. In addition, the Council benefited from presentations by two student members of the HMS Financial Aid Committee, each a recipient of a REACH scholarship (Resilence, Excellence, Achievement, Compassion, and commitment to Helping the underserved). The students advocated for expanding the Dean's REACH Scholarship Award Program by offering it to more students from disadvantaged backgrounds who have a demonstrated commitment to serving underserved populations; using loan repayment (also called loan forgiveness) programs to provide debt relief to graduating students who pursue careers in public service or global health; and using the Middle Income Initiative to support families facing financial burden.

Other updates from the meeting include:

The selection of David J. Brown, MD '97, as the second recipient of the Distinguished Service Award for HMS Alumni. The award recognizes his dedication to mentoring HMS students and to building a culture of diversity and inclusion at our School.
The formation of a subcommittee, led by Councilor for the Ninth Pentad, Ted Kohler, MD '76, that would explore possible mechanisms for helping alumni who, after interrupting their careers, are now exploring reentry.
A review of the successful efforts by the Office of Alumni Affairs and Development to engage alumni through regional events and reunions. Please get involved! Vote in the annual Alumni Council election, become an MD Alumni Advisor, submit your responses to Rounds in Harvard Medicine magazine, and more.

Several alumni have contacted me directly regarding issues of potential interest to the Council and alumni. I thank them for their suggestions and wish to remind everyone that we welcome your thoughts and ideas.

This is my first report on the proceedings of the HMS Alumni Council. I am deeply honored to serve as president of the Council, and I am fortunate to follow the exemplary leadership shown by Lisa Henske, MD '85, during her tenure.

With a two-year term for the president, there is an opportunity to pursue ambitious initiatives. And, for the first time, the Council's deliberations are informed by the addition of two medical students: the co-presidents of the fourth-year class.

I have asked the Council to focus on one major project and only a few small ones for the next one to two years. We have placed financial aid at the top of our agenda. There are several reasons for this, including that the financial burden of attending HMS and other private schools has increased dramatically over the years; that growing student debt may be distorting medical student career choices; and that debt burdens can affect the future well-being of medical families, especially when there are two debt-carrying physicians.

Recently, several prominent medical schools, after receiving nine-figure donations, have transformed their approach to financial aid. The media has shined a spotlight on these schools and on the larger issue of medical-student debt. One school is now tuition-free for all. Other schools have eliminated student debt entirely. Still others, in an effort to attract students from competitors, are deploying scholarships without linkage to financial need.

While HMS' financial aid program is both generous and need-based, the School's leadership is actively reviewing its philosophy around such support. Should tuition-free be an aspiration, or does a debt-free approach specifically for those in need fit better with HMS values? Or is it wise for students to have "skin in the game" in the form of some level of debt? If so, would this be equitable, or would it deter qualified students whose families have limited means? Should alumni direct their gifts to student financial aid?

The Alumni Council is ready to work with Dean George Q. Daley, AB '82, MD '91, PhD, and Dean for Medical Education Edward M. Hundert, MD '84, to provide counsel on these questions, review messaging around our aid packages, and help obtain resources. From the perspective of philanthropic support, no group is more interested in supporting students than the alumni.

Student debt is a complicated and pressing matter that will require much bandwidth to address. But there is also room for the Council to work on other matters. Several topics are under consideration; I encourage alumni to send suggestions now while we are still prioritizing the Council's efforts for the coming term.

We look forward to hearing from you.