DeWayne M. Pursley, MD '83 (Class of 1982), MPH '83
2022 Service Award Winner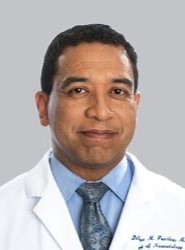 DeWayne M. Pursley, MD '83 (Class of 1982), MPH '83, has given back so much to Harvard Medical School through volunteerism in the areas of financial aid, student diversity and inclusion, and mentoring the next generation of physicians. This year, a former student—and beneficiary of these efforts—nominated Pursley for the 2022 Distinguished Service Award for HMS alumni.
Pursley, the chief of neonatology at Beth Israel Deaconess Medical Center and an associate professor of pediatrics at HMS, knows firsthand the challenge of closing the gap between financial aid and the cost of tuition. A recipient of need-based aid when he was a medical student, Pursley  still had to earn money driving a shuttle bus and working as a student security guard. But that doesn't mean anyone else should have to, he says. In fact, Pursley has devoted much of his volunteer efforts to making sure HMS students have sufficient financial resources and the time to be, well, medical students. 
"I think it's important for students to be allowed time off as well as time to pursue their scholastic interests, without being burdened by the need to earn an income while they're in the medical school," he says.
The generation coming into medical careers is pretty amazing. They're so smart, so worldly, and so committed that it really provides me with a lot of hope to where our profession is going.
Nominate an alum for the award
Alumni can submit nominations for this award via the online form. The Alumni Council selects the award recipient each year. Nominations are kept confidential and will not be posted online.