David J. Brown, MD '97
2020 Service Award Winner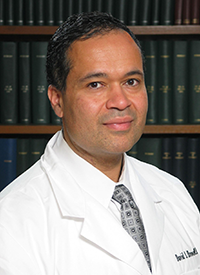 Brown is recognized for his commitment and dedication to fostering a culture of diversity and inclusion in the medical profession by mentoring HMS students, including through the creation and management of an annual dinner that connects the School's alumni and students from groups underrepresented in medicine, opening up paths to success in research, academia, industry, clinical care, or entrepreneurship.
Brown and his classmate Alicia Barba, MD '97, developed, manage, and fund the HMS Underrepresented in Medicine (URM) Alumni-Student Dinner, which brings together students and HMS alumni from a broad range of specialties. The dinner fosters community amongst URM students and provides a unique opportunity to establish a mentoring relationship with alumni. Over the last five years, more than 240 students have benefited from this event.
Brown views the dinner as an opportunity to expose students to career options beyond patient care, including careers in academia, business ventures, and nonprofits.  "When you have a Harvard Medical School degree, there are so many options and opportunities for you, and we want to really help these students develop to be their own unique, amazing selves," he says.
As a former first-generation college student and URM medical student, Brown knows the importance of community and mentorship. He recalls checking in with students ahead of him at medical school, asking for advice, and receiving support throughout his time at HMS. "Going to HMS was a great honor, and yet it was something very new for my whole family and me. I didn't know exactly what I was getting into. So having had mentors ahead of me was very important."
I was fortunate to have a support network, including my classmate Alicia Barba. Her partnership paved the way for this program. It was special to be acknowledged for doing something that I love, and something that I hope is making an impact, and that is going to make a difference for HMS's diverse emerging leaders in medicine and beyond. I'd be remiss if I didn't thank Alicia as well.
Nominate an alum for the award
Alumni can submit nominations for this award via the online form. The Alumni Council selects the award recipient each year. Nominations are kept confidential and will not be posted online.